Agriculture Award Winners
Each year the Sonoma County Harvest Fair selects outstanding members of the Sonoma County agricultural community to be honored for their contributions to the preservation and enhancement of farming in Sonoma County. The Ag-Recognition selection committee is comprised of past recipients.
Each year the Sonoma County Harvest Fair Board of Directors is proud to honor leaders in our community with Agricultural Recognition Awards.  At this time, the awards have been postponed.  We are proud to recognize the recipients from 2019 and look forward to continuing the long standing tradition in 2022.
Griffo Distillery
Excellence in the Craft Beer, Cider, or Spirits Industries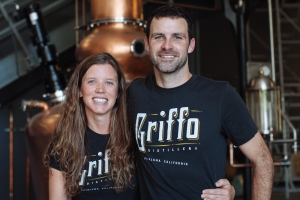 The Sonoma County Harvest Fair is honored to present Griffo Distillery with the 2019 Award for Excellence in the Craft Beer, Cider, or Spirits Industries.
Griffo Distillery is a family-run operation with an emphasis on high quality, California-grown ingredients and meticulous craftsmanship. From formal analysis to custom still controls of their own design, they infuse every step of the spirit-making process with ingenuity and precision, merging craft and science to create spirits that are both beautiful and complex.
The Griffo's met while Mike was finishing his PhD in Physics at UCSC and Jenny was finishing her Masters at Stanford. Quickly they knew they had many things in common, among them a love of spirits. Together the idea of Griffo Distillery was created. It took seven years of saving money, testing recipes, and heavy lifting to turn that dream into a reality.
The Griffos released their first product, Scott's Street Gin, in 2015. Today they're growing their business to include national distribution, managing a tasting room, and producing more spirits crafted in Betty, their 250-gallon, custom-made copper still.  In early 2020, they will be opening a downtown Petaluma Griffo bar that will feature small bites, Griffo cocktails, wine and beer, and Griffo spirits bottle sales.
Outside of growing a business, the Griffos are also growing a family. With little ones at ages one, three, and six who consider the distillery a second home, the Griffos hope to pass the business on to them one day.
Lou and Susan Preston
Excellence in Local Food Production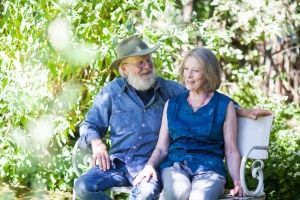 Preston Farm and Winery is a family-operated, organic and biodynamic property in Healdsburg's Dry Creek Valley. The125 acres are nestled between a salmon-spawning stream and a former wagon trail leading to town. Under 45 years of stewardship by the Preston family, the land has evolved from an emphasis on wine alone to diversified crops including vineyards, vegetables, fruit and olive trees, grain, and pastured livestock. The Preston's estate winery features a tasting room, farm store, and bakery with a wood-fired oven.
The Preston's passion for agriculture began long before the creation of the Preston Farm and Winery. Lou traces his agriculture background to the family dairy and prune ranch in Sonoma County and an apprenticeship with the CPA firm at BV Winery. Lou learned to grow grapes and make wine at UC Davis in the early 70s. But claims his true education came at the "knees of his elders and neighbors, those who came up in the farming world with bib overalls, a hefty skepticism, tireless curiosity, and endless creativity."  While Susan grew up on the family cattle ranch and considers herself the culinary mother of their farm. "It's in our blood and dreams," said the Prestons. "A passion for regenerative farming inspired by Organic Pioneer "Amigo" Bob Cantisano," who Lou met in 2000.
The Preston's are dedicated to the practice of enlightened farming, the honoring of tradition, and the sharing of agrarian experience. They have a focus on healthy food, soils, people, community and the production of tasty wines with cultural and historical relevance.
Jim Porter
Friend of Sonoma County Agriculture
The Sonoma County Harvest Fair is proud to honor Jim Porter as the 2019 Friend of Sonoma County Agriculture for his dedication to agriculture and education in Sonoma County.
A Sonoma County native, Porter learned about raising livestock first hand whil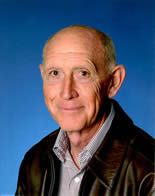 e growing up on his family's 275-acre ranch in Petaluma. He started showing animals at the Sonoma County Fair when he was just 10 years old. After high school, Porter attended Fresno State University, as an Animal Science major. While at Fresno State, he competed on the livestock, dairy and meats judging teams, and worked on the school farm. He also ran FFA livestock judging contests that prepared him for his own college teaching career. After graduating, Porter attend University of California, Davis to earn his teaching credential.
His 37-year career started at Galt High School, where he helped revitalize an ag program while coaching several highly successful teams.  He eventually moved back home to the North Coast Region, where he taught for four years at Santa Rosa High School before being hired by Santa Rosa Junior College.  His 30-year tenure at SRJC was marked by nationally competitive judging teams, tremendous involvement in livestock projects and programs, and a willingness to assist programs and teachers in the area of animal science.  His children were very active in ag education and FFA, and Porter continues to serve his community through his involvement with the Sonoma County Fair and other Sonoma Valley agricultural activities. Porter has received several accolades for his teaching career including "Teacher of Excellence" from the California Ag Teachers Association. In 2002, Porter was named Outstanding North Bay Rancher by the Sonoma County Fair.
Richard Thomas
Lifetime Contribution to Sonoma County Agriculture
The Sonoma County Harvest Fair is proud to honor Richard Thomas with the Lifetime Contribution to Sonoma County Agriculture award, for his dedication to Sonoma County agriculture.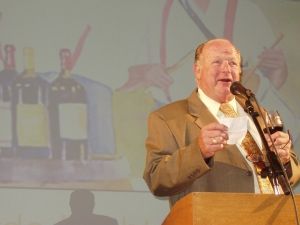 Rich Thomas, known too many as Sonoma County's Dr. Vine is being recognized for his' 40 year agricultural career and his many contributions to the Sonoma County wine industry.
A Sonoma County native, Thomas graduated from Santa Rosa High School, where he was a livestock exhibitor at the fair and an award-winning member of the Future Farmers of America chapter led by J.W. Jamison. He studied agriculture at the University of California, Davis, before going on to work as a vocational agriculture instructor at Healdsburg High School and livestock manager of the Sonoma County Fair.
He began his career at Healdsburg High School in 1964 and returned to UC Davis in the 1970s to complete a Master's Degree in Viticulture. His ultimate success was at Santa Rosa Junior College. It was there Thomas developed the state's first full-time viticulture program at the community college level where he educated many of the winegrowers in Sonoma County.
Thomas recalls his time teaching at Santa Rosa Junior College and starting a viticulture program as a challenge but most importantly, rewarding. It was there he introduced drip irrigation, trellising and no-till farming to the industry. "All three changed the industry permanently and helped make Sonoma County the premier wine grape growing region in the world," cites Thomas.
Blaine Brazil
Outstanding Young Person in Agribusiness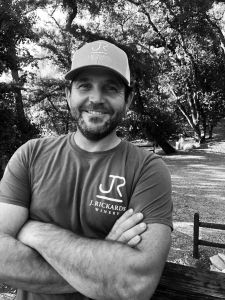 The Sonoma County Harvest Fair is proud to announce Blaine Brazil as the 2019 Outstanding Young Person in Agribusiness.
Brazil grew up in the small dairy community of Ferndale in Northern California. After graduating high school he left the cool and foggy weather of coastal Humboldt County and headed south for sunny weather with a goal of earning a Bachelor's Degree in Dairy Science.
While attending Cal Poly, San Luis Obispo, Brazil stumbled into the Central Coast wine industry, fell in love with wine and ultimately changed his course of study so he could someday become a winemaker. He got his start in the cellars of Tolosa Winery and Saucelito Canyon Vineyards. It was there where his love for small lot, handcrafted wines began. He learned to make Old Vine Zinfandel and Pinot Noir from premium vineyards in the Edna Valley. After graduating in 2003 with a Bachelor's Degree in Fruit Science and a minor in Wine and Viticulture, he accepted the assistant winemaker position at B.R. Cohn Winery. Over the next seven years at B.R. Cohn, Blaine honed his winemaking skills, learning as much as possible about crafting world class wines.
"I am the 4th generation of Portuguese immigrants. My family came from the Azore Islands and has been involved in agriculture for more than 100 years in Northern California," said Brazil. "Receiving this award really pays tribute to all my family. I feel honored to have been raised in agriculture and to have made a career of it as well."
In 2011, Brazil joined the J. Rickards Winery as the Winemaker. His goal is to produce quality small lot, single vineyard wines that express the terroir of the individual vineyards. He is a firm believer that great wines start in the vineyard and it's the quality of the grapes that create wines with intensity, depth and balance. In 2016, Brazil was honored as one of the 'Winemakers to Watch' in Sonoma Magazine.
"He is by far one of the most talented young winemakers in the industry who is flying under the radar," said Dan Rotlisberger, who nominated Brazil for the award. "He is kind, professional, and very humble.  He is a fantastic example of a young man who is doing great things for the Sonoma County wine industry."
The Sonoma County Harvest Fair is pleased to announce Sonoma County native and fourth generation dairy farmer, Jennifer Beretta, as the 2019 Outstanding Young Farmer.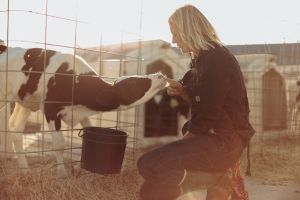 Beretta got involved in agriculture when she was just big enough to push the tractor pedals to help her father, Doug Beretta, feed heifers.  She instantly loved working alongside her dad and grandpa and being part of the family's dairy business.  Her love of the land and passion for their animals stems from her family upbringing.
"I was extremely lucky to have dairy on both sides of my family, I was able to watch not only my dad's side work hard as stewards of our land but my mom's family work to keep the land and business going for the next generation," said Beretta.
A graduate of Analy High School, Santa Rosa Junior College and Chico State, Beretta returned home to help run the family dairy with an Animal Science Degree. Beretta currently serves as the Assistant Herdsman at Beretta Family Dairy in Santa Rosa where their cows provide milk for Clover Sonoma products. She is responsible for much of the day to day operations including: breeding cows, feeding calves, monitoring herd health and placement, irrigation and pasture management and helps with herd management. Beretta also manages the paperwork for their cattle records and the organic certification paperwork in compliance with their inspections. She also compiles the organic compliance paperwork for multiple local dairies, including Dolcini Jersey Dairy, owned by her mother's family.
Beretta is heavily involved in the agriculture industry on both the county and state level. She serves as a Board Member and the 1st Vice President of the Sonoma County Farm Bureau and is extremely passionate about the organization. She also is the Chair of the Natural Resources Committee for the Sonoma County Farm Bureau, a 4-H dairy project leader, an officer in the local Young Farmers & Ranchers organization and is President of the Redwood Empire Holstein Club. She is an alternate delegate to Western United Dairymen board and was recently recognized by the Sebastopol FFA as an outstanding community member because of her work with their students at the local fairs.
"Locally raised and educated, working on a multi-generational dairy that has a history of giving to our community; Jennifer is a worthy recipient of the Harvest Fair Outstanding Young Farmer award and will add to the already impressive list of previous recipients of this honor," said Tawny Tesconi, Executive Director of Sonoma County Farm Bureau.
Sangiacomo Family
Sustainable Farmers Award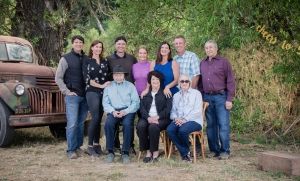 The Sonoma County Harvest Fair in partnership with the Sonoma County Winegrowers has selected the Sangiacomo family for the 2019 Sustainable Farmer award.
For the Sangiacomo family, a legacy of hard work, quality production and family business has been central to daily life in Sonoma County for three generations. In 1927, Maria and Vittorio Sangiacomo settled in Sonoma on the family's "home ranch," having migrated to the area from Italy. Originally, the family farmed pears, apples and prunes and had four children who grew up on the ranch and began farming in their early years. Over time and with help from many family members, they transitioned the produce farms to vineyards, which ultimately led to huge growth of the business.
For over 90 years, farming has been a daily way of life for the Sangiacomo family. Today, the third generations of family members are heavily involved with day-to-day operations of the evolving business. This includes the (adult) children of Angelo and Diane Sangiacomo who are all committed to ensuring the family legacy continues for future generations: Mike Sangiacomo, Steve Sangiacomo, Mia Pucci and son-in-law Mike Pucci.
Over 50 years after planting their first vineyard on the ranch, many of the same practices that resulted in a reputation of high-quality, sustainable winegrapes are in place today. The Sangiacomo Family mission: to sustainably farm with Mother Nature to grow world-class winegrapes and craft wines of intensity and balance from our very best vineyard sites, guides decisions in the vineyard and ensures that the priorities continue to include a focus on quality as well as environmentally conscientious farming practices, sound business acumen and treating employees, clients and community with the highest levels of respect and consideration. The family's winegrowing expertise and the willingness to "custom farm" to meet the needs of each winery client has been proven many times over the years, with "Sangiacomo Vineyards" being one of the first vineyards in Sonoma County to be recognized with a vineyard-designated wine, and having been recognized on labels by over 35 different wineries over the years.
In 2015, all Sangiacomo vineyards county-wide were certified sustainable by the California Sustainable Winegrowing Alliance (CSWA). This includes over 1600 acres of winegrapes grown primarily in Sonoma Valley, Petaluma Gap, Carneros and Sonoma Coast. In 2018, the family released the first vintage of their namesake wine, featuring small-production, hand-crafted Chardonnay and Pinot Noir from the best of the family's estate vineyards.
"The Sangiacomo Family are pillars of our grape growing community," said Sonoma County Winegrowers President Karissa Kruse, "they were early leaders of sustainability in their vineyards and in using the sustainable winegrowing label to reach consumers.  Steve Sangiacomo is a long-term board member of the Sonoma County Winegrowers, the Sonoma County Grape Growers Foundation and a member of the Sonoma County Center for Ag Sustainability. Mike Sangiacomo served for many years on the board of CSWA. The family's generosity has helped support a number of critical programs for our farmworkers and their families. The Sangiacomo family was an obvious choice for Sustainable Farmer/Grape Grower and we are so thankful for their ongoing support and leadership."
Ferrari-Carano Vineyards and Winery
The Sonoma County Harvest Fair in partnership with the Sonoma County Winegrowers has selected Ferrari-Carano Vineyards and Winery as the 2019 Sustainable Producer.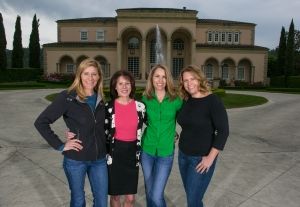 Ferrari-Carano Vineyards and Winery has been a leader in the Sonoma County wine community for over 30 years. Owners Don and Rhonda Carano moved to Sonoma County in the late 70's, shortly after a visit to the picturesque area to research wines that might enhance the wine list at their Reno-based hotel, The Eldorado. At that time, the couple purchased a 60-acre parcel in Alexander Valley and were inspired by the vineyards on the property. They began taking viticulture and enology classes to advance their wine knowledge and started making wine under the Carano Cellars label, which eventually ended up on the wine list at the El Dorado.
Don and Rhonda saw great potential in Sonoma County and continued to purchase land, which led them to launching Ferrari-Carano, named for Don's grandmother Emelia Ferrari, in Dry Creek Valley in 1981. Rhonda and Don then set out to use their dynamic skillsets and passion for wine to create one of the most sustainable, renowned wine brands in Sonoma County and later to acquire Vintners Resort and John Ash & Co. Restaurant in Santa Rosa, a favorite meeting and dining place for Sonoma County's wine industry and tourists alike.
Today, Ferrari-Carano sustainably farms vineyards in Alexander Valley, Russian River Valley and Dry Creek Valley as well as several AVA's outside of Sonoma County. Unique attributes such as water/energy efficiency, pest management, wildlife conservation and soil management are closely examined at each propert
y and viticulture practices are tailored to match each vineyard to deliver the best, most sustainable wines possible. In 2015, Ferrari-Carano officially earned California Sustainable Winegrowing Alliance (CSWA) certification for all 24 of their vineyards, a nod to their countless efforts in preserving the land for generations to come.
"Ferrari Carrano has been a strong leader in our sustainability efforts," said Sonoma County Winegrowers President, Karissa Kruse. "They were an early pioneer and partner in piloting the use of the "Sustainably Farmed Grapes" label for wine as well our augmented reality app launched earlier this year. They also worked with a number of their grape growers to support the movement toward sustainability certification. The team has great leadership, and are always a pleasure to work with. We appreciate their willingness to step up whenever asked to support events and marketing efforts. For all these reasons and more, we are pleased to present Ferrari-Carano with the 2019 Sustainable Producer/Winery Award!"