Agriculture Award Winners
Each year the Sonoma County Harvest Fair selects outstanding members of the Sonoma County agricultural community to be honored for their contributions to the preservation and enhancement of farming in Sonoma County. The Ag-Recognition selection committee is comprised of past recipients.
This year the Sonoma County Harvest Fair Board of Directors is proud to honor the following people for the 2018 Agricultural Recognition Awards:
Larry Peter of Petaluma Creamery
Excellence in Local Food Production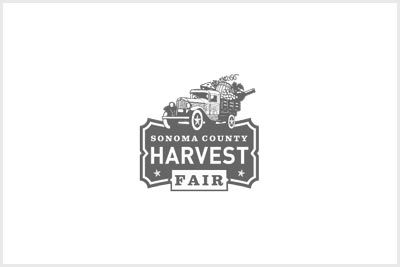 Larry Peter grew up in Sebastopol, California. His father, Virgil, worked in the lumberyards. His mother, Georgia, was known as the "Potato Queen" for gourmet potatoes she produced and sold at farmers markets. Larry grew up with a passion for the agriculture industry, picking prunes and raspberries, feeding calves, washing milk bottles and driving a forklift.
In 1987 Larry bought a run-down dairy farm in Two Rock and brought it back to life. Soon after he was producing hundreds of pounds of cheese and selling it himself at local farmers markets. When the Petaluma landmark, Petaluma Creamery came up for sale Larry risked it all to purchase the creamery to grow his brand and to support local dairy production.
The Petaluma Creamery established in 1913 by a group of local dairy farmers has been a landmark of downtown Petaluma for over a century. Petaluma Creamery remains a vital link in the survival of local family dairies. Many dairy families trace the survival of the dairy industry in Marin and Sonoma counties to the purchase of the creamery in 2004 by Larry.
Today, he employs more than 100 people at the creamery and sells up to 500,000 pounds of cheese and 300,000 pounds of milk powder a week. The Creamery also produces ice cream, whey powder, sour cream and butter under the certified organic Spring Hill Cheese and Petaluma Creamery brands, as well as third-party-branded dairy products.
Outside of the creamery Larry has multiple other agriculture-based ventures. For more than 20 years, Larry has held the Peter Pumpkin Patch at the Spring Hill Cheese farm. Every year local families and thousands of kids experience life on the farm by sampling pumpkin ice cream, digging their own potatoes, milking a cow, going for a hay ride, petting baby animals and picking out the perfect pumpkin. Larry values the opportunity to build community and to teach kids where their food comes from.
Through his businesses he supports local business organizations, FFA chapters and 4H clubs to ensure that the strong farming traditions of the area are passed on to the next generation.
Marilyn Herzog
Friend of Sonoma County Agriculture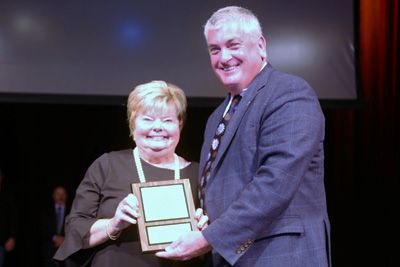 For her decades of dedication to the agricultural community, the Sonoma County Fair's Junior Livestock Auction and the Sonoma County Fair Board, the Sonoma County Harvest Fair is proud to honor Marilyn Herzog with this year's Friend of Sonoma County Agriculture award.
A native resident of Sonoma County, Marilyn Herzog has dedicated her life to building our community, supporting youth in agriculture and preserving Sonoma County's agricultural heritage.
Marilyn and her husband Kip Herzog owned and operated Sleepy Hollow Dairy in Petaluma for decades. The pair went on to achieve international recognition for their Holstein cattle herd. Marilyn and Kip have since converted some of their land to vineyards and remain active in the county's farming landscape.
Marilyn's love for agriculture was planted at an early age. She grew up as Marilyn Jacobs on the Jacobs Ranch in Bennett Valley. She was an active 4-H member in her youth, becoming a Sonoma County 4-H All Star for outstanding community service and her 4-H projects in dairy cattle and food preservation. In 1962 she was selected as the national 4-H winner in dairy foods and won a scholarship to the University of California, Davis. Before graduating from high school, she was crowned Dairy Princess for the Redwood Empire. She later went on to be selected as the California Dairy Princess.
Marilyn has served on the Sonoma County Fair Board of Director since 2011 and is currently serving as the Fair Board President. During Fair time Marilyn can be found ringside in the livestock area supporting local youth exhibitors. She is a fierce advocate for local 4-H and FFA members, encouraging everyone "to head down to the livestock area and introduce yourself to at least one young person showing, it will be give you hope for the future of agriculture in Sonoma County."
Marilyn has even found a way to use her skills as a successful business woman to give back to the local community. Her travel agency, Marilyn Can Travel, is well known for donating or sponsoring trips that are sold through silent and live auctions.
Jim Ledbetter
Lifetime Contribution to Sonoma County Wine Industry "Methuselah Award"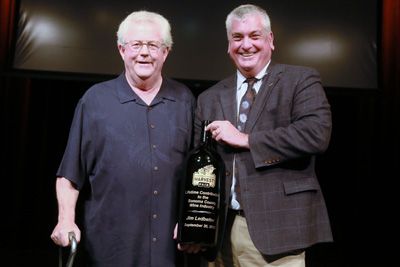 Jim Ledbetter is a graduate from Fresno State University, with a Bachelor of Science in Business Administration. He got his first introduction to winegrape growing in the early 1970's when he took a break from college to help his father, Keith Ledbetter, plant 1,200 acres of winegrapes in Lodi. Immediately after graduation from Fresno State, Jim joined his father and went to work for the family business.
"I am very honored and humbled to have been selected by my peers for this prestigious award," said Jim. "I have enjoyed giving back to Sonoma County throughout my career and will continue to do so."
The Lodi region is where the family began growing, and on April 1, 1976 officially expanded the business to Sonoma County. Working first with his father and then his brother, John; Jim helped Vino Farms develop and grow into the successful vineyard management business it is today. Vino Farms manages and owns vineyards throughout the state including Sonoma, San Joaquin, Sacramento, Yolo, Napa, San Luis Obispo, and Santa Barbara Counties. Vino Farms grows more than a dozen different winegrape varieties and sells to nearly 150 wineries throughout California. They employ approximately 150 full-time employees and 450 seasonal employees.
Jim has been actively involved in wine and grape growing organizations his entire career and is a respected leader in the industry. He has held leadership roles as the Past Vice Chair and Director of the California Association of Winegrape Growers (1993-2003); Past President and Director of the Sonoma County Grape Growers Association; Director of the American Vineyard Foundation; Director of the PD/GWSS Board, and a number of other winegrape industry organizations.
Jim will celebrate 40 years of marriage next month to his wife Jeanne. They have three daughters, Marissa, Courtney and Megan; three son-in-laws (Brian, Bill, Brandon), and 7 grandchildren (Kendra – 16, Billy – 6, Blair – 5, James – 4, Brett – 3, Everly – 2, Ellie – 1.5). In Jim's spare time, he enjoys spending time at his beach house in Cayucos, spending time with family and grandkids, and with the friends that have become family through the wine industry.
Robert Muelrath
Lifetime Contribution to Sonoma County Agriculture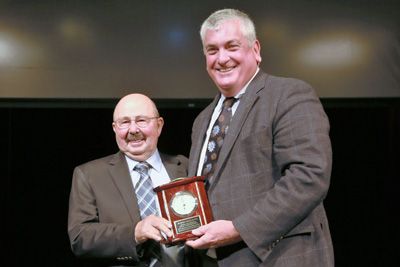 Robert Muelrath better known as "Bob" in the agriculture community, is a second-generation Sonoma County farmer. His family's farming legacy in Sonoma County began in Bodega Bay with a small dairy and poultry operation. For 38 years Bob ran his dairy business, served on multiple dairy and milk producer boards and served as president of the Sonoma County Farm Bureau.
Fellow agriculturalist and friend Bob Dempel commended Bob saying, "I know of no other person more worthy of this award. He was one of the longest serving school board members in Sonoma County. He has openly supported pro agriculture laws. He contributed openly not only money but farm product to a vast number of agriculture events. Bob and his wife are most always at every agriculture event."
Bob is a graduate of Santa Rosa High School where he served as the 1961 FFA Chapter President. His long list of accolades and volunteer hours speak to his devotion to agriculture. After thirty-eight years in the dairy business he now farms beef cattle, forage crops, hay pumpkins and fall ornamentals.
Bob is a graduate of California Agricultural Leadership Program, Class XIII. He has dedicated his time away from the farm serving as a board member of the Sonoma County Farm Bureau from 2004-2014, board member of the Consolidated Milk Producers of California from 1978-1982, a board member of the United Dairyman of California from 1982-1984, a board member of the League of California Milk Producers from 1980-1984 and countless of other committees. Bob served on the Bellevue Union School District Board of Trustees from 1972 until 2004, helping procure sites and build two new schools for the district. Most recently, Bob served as the Sonoma County Farm Bureau Foundation President from 2015-2016.
Bob is better known by the general community for Muelrath Ranches. Muelrath Ranches is Bob and Audrey's pumpkin patch where they grow a variety of pumpkins and winter squash. Every fall they open to the public to visit and learn about agriculture. A night visit to the pumpkin patch is a Sonoma County Fall tradition for many families.
Ned Neumiller
Outstanding Young Person in Agribusiness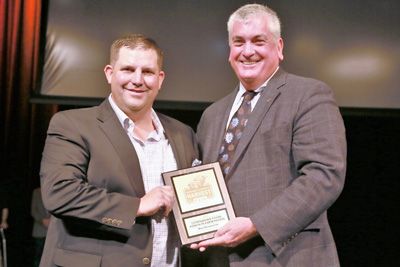 The Sonoma County Harvest Fair is pleased to announce that sixth generation farmer and Healdsburg native Ned Neumiller is the 2018 Outstanding Young Person in Agribusiness.
Ned represents a long line of agriculturalists with a love for wine and livestock in Sonoma County. Growing up Ned spent his afternoons at the winery and showed livestock competitively around the nation. His "great love of livestock" led him to consider pursuing a career as a large animal vet. Ned credits his interest in the agriculture industry to his FFA teacher Rob Walstrom and the course in viticulture and enology his senior year that changed his career course.
Ned is a graduate of California Polytechnic State University, San Luis Obispo where he received a Bachelor of Science in Fruit Science. During his time at Cal Poly, Ned interned with Bevill Vineyard Management. Bevill Vineyard Management, one of Sonoma County's top vineyard management companies specializing in sustainable vineyard practices. He worked multiple summer and fall harvests with Bevill, learning the trade from the bottom up. He drove night harvesters and tackled anything that needed done for the team. He was quickly promoted to data programming and vineyard management.
After college he returned home to run a northern territory for Bevill Vineyard Management that encompassed the Alexander Valley and North Dry Creek Valley. He also worked in the equipment business before being named the Grower Relations and Viticulture Manager at Seghesio Family Vineayards.
When Ned joined the family business in 2012, he brought with him a breadth of knowledge in vineyard management and operations. His passion to continue his family's rich winegrowing tradition makes him a valuable addition to Seghesio Family Vineyards and the Sonoma County wine community as a whole.
Today, every day looks a little different out in the vineyard for Ned. He manages forty growers across the state in the grower relations aspects of his role. On the viticulture management side he works with his father Jim in his 42nd harvest with Seghesio. Ned collects data that supports their actions in the vineyard on a day to day basis. He also oversees the equipment shop and equipment operators.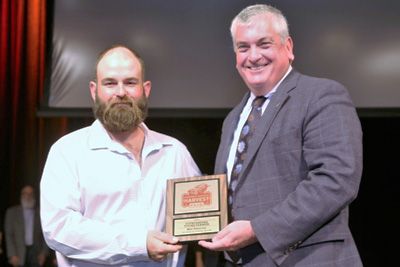 Ben grew up in Geyserville and still lives in the area just under a mile from his parents' home ranch. He grew up in the vineyard industry and has always had a passion for it. His passion stems from his love of the outdoors, the seasonality of the work and the people he gets to work with.
Ben is a graduate of California Polytechnic State University, San Luis Obispo. He graduated with a Bachelor of Science in Wine and Viticulture with a concentration in viticulture. During his time in high school and college Ben completed various internships and summer jobs at different wineries. Upon graduation, Ben returned to the family business to work with his father, Alex Vyborny, at Vyborny Vineyard Management.
Ben describes his position with Vyborny Vineyard Management as a Vineyard Manager. Together with his father they farm around 1100 acres in Sonoma, Mendocino and Napa counties. Outside of work, Ben is an avid outdoorsman and enjoys hunting and fishing.
Ben's father Alex received the Sonoma County Harvest Fair's Outstanding Young Person in Agribusiness award in 1980. "This award is really special," said Ben. "I am following in his footsteps."
Duff Bevill
Sustainable Farmers Award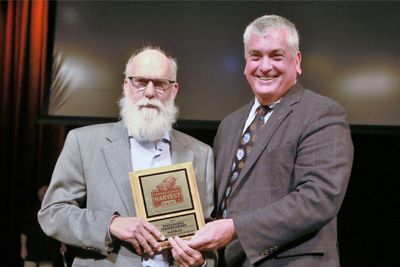 The Sonoma County Harvest Fair in partnership with the Sonoma County Winegrowers has selected Duff Bevill of Bevill Vineyard Management as the 2018 Sustainable Farmer.
Duff Bevill has been farming wine grapes in Sonoma County for over 35 years. He arrived in Dry Creek Valley in 1973 at the age of 22 for a summer job working with Joe Vogensen at his local vineyard management company. In that position, Duff became acquainted with many older farmers in Dry Creek Valley, who taught him old timers' wisdom and self-reliance.
A strong proponent and early adopter of sustainable farming, Bevill was involved in early programming with the California Association of Winegrape Growers that would become the California Sustainable Winegrowing Alliance in 2003. "Before the Sonoma County Winegrape Commission was formed, Nick Frey and I drove down to San Francisco to meet with CAWG and about 10 other growers to talk through sustainable practices," says Bevill. "Once the program launched, we visited all the AVAs and helped farmers assess their own practices so they were ready when the certification programs became available for sustainability."
In 2014, Bevill Vineyard Management became one of the first Vineyard Management companies in Sonoma County to have 100% of their clients certified sustainable. Around that same time, he posed a question (or a challenge) to the new President of Sonoma County Winegrowers, Karissa Kruse: How can we get the Governor of California to recognize the efforts of Sonoma County growers' sustainable practices? This question led to many discussions that ultimately culminated in the unprecedented commitment and 5-year journey for Sonoma County Winegrowers to certify 100% of vineyards in Sonoma County sustainable in 2019.
"Sonoma County Winegrowers, along with the Sonoma County Harvest Fair are proud to honor Duff Bevill with this award," said Kruse, "Duff has not only been a catalyst in advancing sustainable winegrowing in Sonoma County, but a tremendous supporter of our organization, community and continuing efforts to promote and protect the resources of Sonoma County grape growers for generations to come."
Duff Bevill and his wife Nancy own and lease a total of 80 acres of their own vineyards in the Dry Creek and Russian River valleys. The Bevill family lives in the heart of Dry Creek Valley, surrounded by vineyards.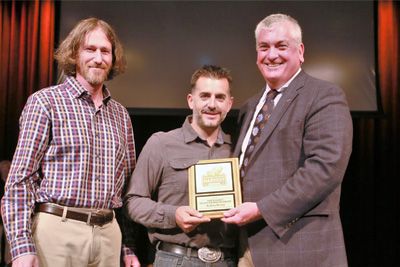 The Sonoma County Harvest Fair in partnership with the Sonoma County Winegrowers has selected Rodney Strong as the 2018 Sustainable Producer.
Rodney Strong Vineyards is dedicated to crafting world-class wines that capture the essence of Sonoma County. The winery sustainably farms 14 estate vineyards, and produces wines from Sonoma County's finest appellations – Alexander Valley, Russian River Valley, Chalk Hill, Dry Creek Valley, Knights Valley, Petaluma Gap, and Sonoma Coast. The winery was founded in 1959 by Rodney Strong, one of the pioneers of the modern Sonoma County wine industry and an acknowledged visionary who understood the potential that Sonoma County's soil and climate held for producing world-class wines. Rodney Strong was the first winery to craft a Single Vineyard Alexander Valley Cabernet Sauvignon, one of the first to plant Pinot Noir in the Russian River Valley and the first to produce a Chalk Hill Chardonnay. In 1989, the winery was purchased by the Klein family, a fourth-generation California farming family. Today, the company continues its history of innovation and quality as one of California's most respected wineries, crafting delicious Sonoma County wines that reflect passion and creativity.
Rodney Strong Vineyards have been certified sustainable by California Sustainable Winegrowing Alliance as well as Fish Friendly Farming. The team has gone acre by acre through their estate properties to ensure they are taking every step they can to safeguard this region's eco-system. The winery's solar energy system is one of the largest of any winery in the world, and they have continued their tradition of being pioneers in innovation by becoming the first carbon neutral winery in Sonoma County.
Rodney Strong Vineyards' commitment to sustainability goes far beyond their vineyards and winery. They were an early partner of Sonoma County Winegrowers in co-hosting sustainability workshops and helping to provide fellow winegrowers with valuable information on water conservation soil management and the benefits of sustainability certification. Additionally, Director of Winegrowing, Doug McIlroy is a long-standing member of the SCW Board of Directors.
"We are so thankful for the partnership of Rodney Strong Vineyards," said Sonoma County Winegrower's President Karissa Kruse, "Congratulations to Tom Klein and the entire team on their well-deserved recognition as this year's Sustainable Producer award."
As the company looks to the future, they are committed to continuing to test and implement the latest sustainable practices. By doing so, they not only improve the quality of life in the community but ensure exceptional wines in the glass.