KZST World Championship Grape Stomp
* FREE Event to Watch for All Ages
Attending the Harvest Fair has been a tradition for both local and out of town guests. Wine and food lovers from as far abroad as South America, India and even Australia, plan their visit to Santa Rosa each October, to sample the county's bounty and participate in the wildly popular World Championship Grape Stomp. This hilarious, action-packed competition can only be experienced at the Harvest Fair. In addition to bragging rights and purple-stained extremities, winning teams vie for a grand prize of $1,500.
How It Works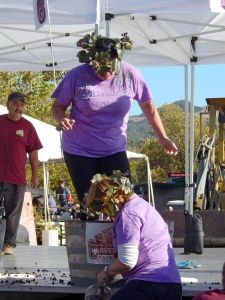 Teams of two (one stomper & one swabby) compete in the hope of being named the world's greatest grape stomp team. The Stomper stands in a barrel full of grapes and squishes out the juice using their feet. The Swabby stands below the barrel and keeps the juice flowing into the jug, pulling grape skins away from the screen, and pushing juice toward the pipe.
Team T-shirts and costumes are encouraged; a special award for creative costuming is given out for each stomp. Winners from stomps around the country (and the world) travel to the Sonoma County Harvest Fair to compete for the World Championship title. If you are sending a team from your stomp, let us know! We want to make sure your team and your event get special recognition.
How to Enter
Entries Open: August 1, 2023
Entries Close: October 13th
Entry Fee: $40 per team (2 people)
Check-in: October 14th, 12:00 pm
STOMP TIME: 12:30 pm
2019 World Championship Grape Stompers
Juice Weight in Final Round: 20.14
Angela Lombardi Carvalho & Dee Dee Lombardi Brandt, Santa Rosa, CA